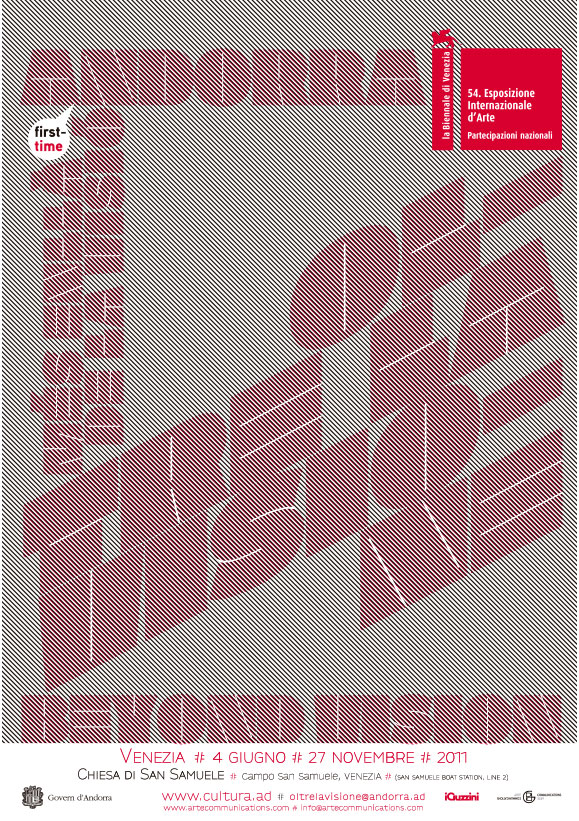 Beyond Vision
2011 – 54ª edition
ESGLÉSIA DE SAN SAMUELE, SAN MARCO
Andorra, per primer cop, participa a la 54a Exposició internacional d'art de la Biennal de Venècia. El pavelló andorrà s'ubica a l'església de San Samuele.
Sota el títol Més enllà de la visió i amb clara voluntat de dialogar de forma oberta i lliure amb els altres països que participen en aquesta edició, Andorra dona a conèixer l'obra de dos artistes plàstics andorrans: Helena Guàrdia Ribó i Francisco Sánchez i Sánchez.
Helena Guàrdia
FLOATING CITY
Helena Guàrdia called her work Floating City. In those large photographic prints shot in a kind of hand-crafted manner, Andorra's buildings are floating in the sky as the city of Venice does above water.
Francisco Sánchez
THE EPHEMERAL AND THE ETERNAL
The Ephemeral and the Eternal  presented at the Venice Biennale is a triptych that works as an installation, formally following the same premises lately developed by the painter.
Comissioners and organisation 2011
Venue: San Samuele church
Date: June 4th – November 27th 2011
Commissioner: Pedro de Sancristóval y Múrua
Commissioner Pedro de Sancristóval shows Francisco Sánchez work to Ferran  Mascarell, "Conseller" of Culture at the Generalitat of Catalonia, the day Andorra inaugurated its pavilion.

Deputy commissioners: Joan Gil Gregorio, Ermengol Puig Tàpies, Francesc Rodríguez Rossa
Coordination: Josep Maria Ubach Bernada
Curators: Paolo de Grandis, Josep Maria Ubach Bernada
Collaboration: Francesca Romana, Carlotta Scarpa, Roberto Rossole / Arte Communications
Coordination Andorra: Montse Coma Areny
Set-up: Helena Guàrdia, Francisco Sánchez, Josep Barros, Valeria Giarola, Josep Maria Ubach
Correction texts: Servei de Política Lingüística
Pavilion interior design: Sandra Àlvarez, MEM disseny
Graphic design: Òscar Llauradó, Núria Publicitat
Audiovisual and photography: Marta Martínez, Àlex Tena / mira audiovisual
Lighting: GEA Andorra / iGuzzini
Electrical engineering: Roberto Marangon, Jan Paolo Maistrello / Elektro Service
Transportation (road): Ramon Pujol, Robert Pujol, David Rodríguez, David Pita / Intertrans
Transportation (water): Mario Gaiatto, Lili
Information: Valeria Giarola